Saman Wijesooriya
Senior Program Associate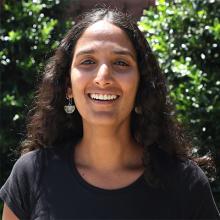 As a senior program associate for the International Trachoma Initiative, Saman provides program support and technical assistance to several countries implementing the SAFE strategy to prevent trachoma. She also assists with the preparation of annual forecasts and drug applications, as well as the development of national Trachoma Action Plans that aim to eliminate trachoma as a source of blindness.
Saman has over 10 years of experience in global health and international development liaising and collaborating with high-level technical experts and policymakers across public, private, and non-governmental organizations. Most recently, for the purpose of monitoring progress in the Global Elimination of Congenital Syphilis and ending the global HIV/AIDS epidemic, Saman led the global burden of maternal and congenital syphilis estimates for 2008 and 2012, and subsequently, developed the sexually transmitted infections databases for the Spectrum System of Policy Models analytical tool to inform data-driven policies and implementation at multiple health system levels as an independent technical consultant to the World Health Organization. She also supported Ministries of Health in the planning and implementation of the Global Health Security Agenda to achieve compliance with the International Health Regulations as a Division of Global Health Protection country officer with the US Centers for Disease Control and Prevention.
Prior to earning a Master of Public Health in Global Health from Emory University, Saman supported the US Advocacy and Communications Team and the Middle East and North Africa program with the International Crisis Group and served as a Health Extension Agent with the US Peace Corps in Mauritania. She earned a Bachelor of Arts in International Affairs from Lewis and Clark College.