M. Babar Qureshi, M.D.
Director of Neglected Tropical Diseases and Senior Medical Advisor, CBM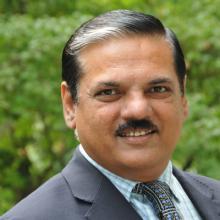 Muhammad Babar Qureshi was born in Pakistan but received all his schooling in Nigeria. He graduated as a medical doctor from Nigeria and did his residency in ophthalmology in Nigeria and Austria. He did his master's in Community Eye Health in London. He then worked as an ophthalmologist in Nigeria for eight years and moved to Pakistan. In Pakistan, he was the secretary of the National Committee for Prevention of Blindness, the secretary of the National Trachoma Task Force and the director of Academics and Research for the Pakistan Institute of Community Ophthalmology for 10 years. During this period, he supported the development of a master's in Community Eye Health course, the Allied Ophthalmic Personnel course, the District Eye Care program, and the development of national eye care programs in 18 countries of the east Mediterranean region. He was actively involved with the National Trachoma Rapid Assessment in Pakistan and the National Blindness survey in Pakistan. He then moved on to be the executive director of Comprehensive Health and Education Forum International for seven years, where he pioneered many inclusive health and education initiatives. He currently is the director of Neglected Tropical Diseases and senior medical advisor for CBM.
Dr. Qureshi is the co-chair for the International Agency for Prevention of Blindness (IAPB-EMR), he is a board member of the International Council of Ophthalmology, he chairs the Global ICO task force on refractive errors, and he is the chair of the EMR Alliance for Trachoma Control.
He has supervised more than 50 students in their master's dissertations in Community Eye Health and has more than 20 publications. He has received many awards nationally and internationally for meritorious services in the prevention of blindness, including the Prince Abdulaziz Bin Ahmed Al Saud Award and the Noval Christy award.