Allan Ciciriello
Assistant Program Coordinator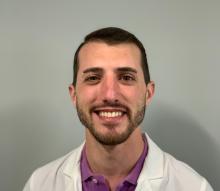 As an Assistant Program Coordinator for ITI, Allan Ciciriello works jointly with the Focus Area for Compassion and Ethics on specialized projects blending trachoma elimination and global health morality. The aims of these undertakings revolve around safety considerations during integrated mass drug administration.
Allan spent time as an intern with ITI before joining the team in an official capacity. Prior to this, he had a background in coordinating benign hematology clinical research trials at Emory University. He has also worked in other disease areas, such as psychiatric and neurocognitive disorders.
Allan holds a Bachelor of Science in Psychology from Clemson University and recently completed his Master of Public Health from Johns Hopkins University, which includes certificates in Global Health and Tropical Medicine.