Amanda Bradica
Operations Specialist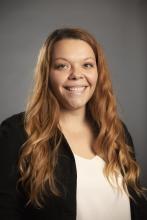 Amanda Bradica is the Operations Specialist for ITI, where she helps to manage the program's office, financial, and administrative activities. Amanda organizes and manages the logistics for Trachoma Expert Committee meetings and works alongside her colleagues in Ethiopia to coordinate the Regional Cross-Border meetings in Africa. She also represents ITI by serving on various committees and working groups within The Task Force for Global Health.
Before joining ITI, Amanda had worked in business and financial administration, providing operational support and management services to class-A offices throughout metro Atlanta. She served as a Peace Corps volunteer in Ethiopia from 2013 to 2015 where she managed education development and capacity building projects.
Amanda is currently pursuing a Master of Public Health degree at Emory University and is expected to graduate in July 2022. She holds a Bachelor of Arts degree in Anthropology from Georgia State University. During her free time, Amanda loves reading, cooking, hiking, and gardening.