Ayalnesh Bayou
Accounts Clerk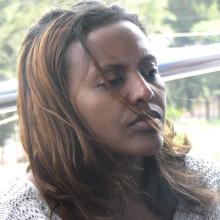 As the most senior staff member of the International Trachoma Initiative's Ethiopia office, Ayalnesh has been working for ITI Ethiopia as an accounts clerk for the last 13 years. When she joined ITI in 2004, she started her career as an office assistant.
Ayalnesh handles payments and preparing payroll, follows up on government tax settlements, and assists in the monitoring of financial transactions. She ensures that financial documents adhere to appropriate bylaws. She also maintains the registration of fixed assets, including conducting an annual inventory and overseeing the vehicles logbook.
Ayalnesh holds a Bachelor of Arts in Accounting from Bahir Dar University, and is pursuing her second bachelor's degree in Business Administration & Information Systems.
She thinks herself as a daughter of ITI Ethiopia and plans to work for the organization until Ethiopia has reached its goal of eliminating trachoma. For Ayalnesh, working in an office dedicated to philanthropic engagements is a realization of her lasting dream.