Carla S. Johnson
Director of Supply Chain Management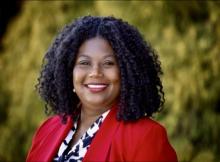 Carla Johnson is the Director of Supply Chain at ITI and sets the global strategic direction for the supply chain of Zithromax®. In her role, Carla provides oversight of day-to-day management of the $1.6 billion Zithromax supply chain and is responsible for supporting the mission of ITI by providing technical expertise in supply chain systems, inventory management, and product management.
She brings to her position 22 years of experience in supply chain management; including materials requirements planning, inventory management, import/export, warehousing, transportation & logistics, and distribution. Before joining ITI, Carla worked as a senior technical advisor – Inventory Management at CARE USA, where she guided and directed global inventory operations for long-term development programs and humanitarian relief efforts, ensuring that much-needed food commodities, pharmaceuticals, medical supplies, and construction materials were delivered to the right place at the right time.
Ms. Johnson holds a Bachelor of Science in Industrial and Systems Engineering along with certificates in Health and Humanitarian Logistics and Organizational Psychology from the Georgia Institute of Technology. She holds an MBA from Emory University's Goizueta School of Business.