Dr. Menbere Alemu
Ethiopia country representative for ITI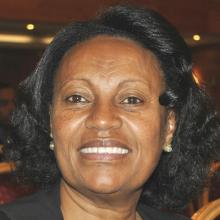 Dr. Menbere Alemu oversees ITI Ethiopia's program management, technical development, implementation and management of personnel, budget and financial activities in Ethiopia. She works in close collaboration with Ethiopia Federal Ministry of Health and Regional Health Bureaus as well as with partner NGOs to implement trachoma control programs. She also facilitates trainings and researches and provides other technical support related to the program.
Prior to joining ITI, Menbere was the head of the Department of Ophthalmology at the All African Leprosy and Tuberculosis Rehabilitation and Training (ALERT) hospital and director of the Ophthalmic Nursing School under ALERT from 2004 to 2008. In this capacity, in addition to her work as an ophthalmologist, she oversaw the clinical, technical and administrative work of the department and planned, coordinated, and conducted outreach eye care service programs for ALERT and the Ophthalmological Society of Ethiopia.
Menbere is an active member of the Ethiopian Medical Association and is the treasurer and executive committee member of the Ophthalmological Society of Ethiopia. She also is a member of several national, regional, and international professional associations including COASA, the American Academy of Ophthalmology, and the WCO. Menbere has received several awards and certificates of appreciation for her professional and humanitarian contributions to the prevention of avoidable blindness in Ethiopia.
Menbere obtained her Medical Doctorate from the Silesian Piasts Medical University in Wroclaw, and trained in Ophthalmology at the Center for Polish Mothers and Children in Lodz, Poland. She received her Master of Community Eye Health from the London School of Hygiene and Tropical Medicine.