Girma Tadesse, M.P.H.
Drug Logistics Coordinator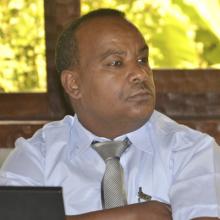 As the drug logistics coordinator for ITI Ethiopia, Girma Tadesse is responsible for the efficient and effective management of Pfizer Inc.'s Zithromax® donation to Ethiopia's trachoma elimination program. He coordinates, organizes, and facilitates the Zithromax® supply chain management in close collaboration with ITI's headquarters, the Ethiopia Federal Ministry of Health, Regional Health Bureaus, and other implementing partners.
Girma joined ITI's Ethiopia office following more than a decade of medical logistics and supply chain management experience. He served in the U.S. Centers for Disease Control and Prevention's PEPFAR program in Ethiopia until 2010 as a medical logistics and warehouse officer. Prior to CDC – PEFAR Ethiopia, Girma served the South Nations Nationalities and People Regional Health Bureau for seven years as regional warehouse and distribution officer.
Girma Tadesse holds two master's degrees, one in Logistics and Supply Chain Management, and one in Public Health.