Kim Tierney
Program Associate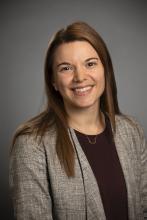 As Program Associate, Kim provides organizational and administrative support for the program team, specifically the programs in Francophone West Africa. In addition to supporting the programs, she helps in the planning process of international meetings discussing the program's success and progress eliminating trachoma by organizing logistics, creating meeting materials, and providing French translation, where necessary.
Kim has worked in a variety of positions promoting public health and international projects. She most recently worked as a nutrition and culinary instructor for both children and adults with a non-profit that provides increased access to healthy, fresh food. She has also taught yoga and provided communications support for a non-profit yoga studio that offers entirely donation classes, served as a Communications Manager and French translator for a machinery company operating primarily in Guinea, and interned at the Borgen Project where she researched and wrote articles about global poverty, mainly focusing on public health issues. 
Kim holds a Bachelor of Arts from the University of North Carolina Asheville where she double majored in French and International Studies, and minored in Africana Studies. While studying, she spent a semester abroad in Dakar, Senegal with CIEE. She is currently pursuing a Master of Public Health in Epidemiology from the Rollins School of Public Health at Emory University.