Leeshia Crayton
Associate Public Health Advisor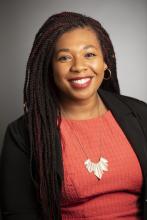 As an Associate Public Health Advisor for the International Trachoma Initiative, Leeshia provides program support and technical assistance to countries implementing the SAFE strategy to prevent trachoma. She primarily supports countries in Eastern Africa and the Pacific Islands.
Before joining ITI, Leeshia served as a Communicable Disease Specialist IV at a regionally recognized City-County health department in Wisconsin. During her tenure at the health department, she was responsible for recruiting and managing a team of disease investigators to conduct COVID-19 response activities and managed state-funded immunization programs to implement vaccination campaigns for Hepatitis A, Influenza, and COVID-19. Prior to her work with the health department, Leeshia served as a Peace Corps volunteer in Senegal from 2017 – 2018. In Senegal, she focused on implementing capacity building, sustainable agriculture, and food security projects to empower women and children's active participation in community development.
Leeshia holds a Master of Public Health degree from the University of North Texas Health Science Center in Epidemiology and Environmental Health Sciences, and a Bachelor of Science from Angelo State University in Animal Science.
In her free time, Leeshia enjoys doing activities in nature such as biking and kayaking. She also volunteers at local animal shelters and community gardens.