Mohammed Seid
Drug Logistics Officer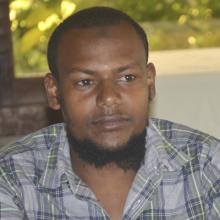 Mohammed serves as a liaison among ITI headquarters, the Ethiopia Federal Ministry of Health, the Central Medical Store, the National Medical Regulatory Authority, district health offices, and other partner NGOs to help facilitate the smooth distribution of Zithromax® in partner communities.
He also works on in-country inventory management and capacity building of local supply chain officers, providing technical support on supply chain management and supportive supervision for mass drug administrations.
Before he joined the International Trachoma Initiative, Mohammed was a pharmaceutical supply chain coordinator for the Save the Children International's Ethiopia office. He also works as a pharmacist for Medical Emergency International UK (MERLIN-UK), Medicines' Sans Frontiers Holland (MSF-H), Jimma University's specialized Hospital and Primary Health Center in Addis Ababa. He supports various developmental and humanitarian health and nutrition projects in Ethiopia including South Sudan and Somali refugees programs.
Through working in various governmental and international nongovernmental organizations, Mohammed has accumulated pharmaceutical supply chain expertise and commitment to work for people in need of humanitarian assistance. He joined ITI to contribute his pharmaceutical supply chain expertise to trachoma elimination scale up programs in Ethiopia.
Mohammed holds a Bachelor of Science degree in Pharmacy from the University Gondar, and is a Master of Arts candidate in Logistics and Supply Chain Management at Addis Ababa University, School of Commerce.