Moumine Yaro
Logistics Coordinator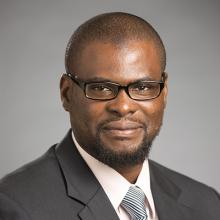 Moumine Yaro is a logistics coordinator with ITI and is responsible for coordinating Zithromax® shipments to Francophone recipient countries, updating the ITI database, analyzing data, and executing and preparing reports to assist the program in effective decision making.
A native French-speaker originally from Cote d'Ivoire, Moumine has a bachelor's degree in Marketing & Management from the school of Management of INSTEC, and an M.B.A. from EDHEC-Abidjan.
He relocated to the U.S. from Cote d'Ivoire after nine years working in logistics and operations management, in import/export, and in the automobile business. Prior joining ITI, Moumine worked in technical support for Lenovo/IBM. Before that, He proudly served in various roles for Macy's Logistics and Operations Department, where he worked with domestic and international vendors. 
Moumine joined ITI because he believes that "Earth's great treasure lies in human personality and service to humanity is the best work of life."