Najwa Sampson
Logistics Coordinator, M.B.A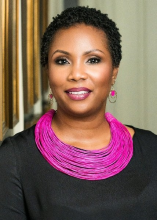 Najwa Sampson joins us as a Logistics Coordinator, providing supply chain support to countries receiving the Zithromax® donation. Najwa comes to us after 15 + years in the healthcare industry. Her most recent work as a Supply Chain Specialist for Pulmonary and Sleep Specialists in Decatur, Georgia afforded her the opportunity to develop many skills that will be an asset to our team. Najwa coordinated shipments of medical equipment to patients, developed the operational infrastructure of the business unit, monitored product merchandising and financial accounts, and improved the efficiency and effectiveness of business processes.
Najwa holds a Bachelor's degree from Clayton State University in Supply Chain Management and has a Master's degree from Liberty University in International Business.
Najwa is passionate about humanitarian work and has a desire to serve others. She has seen firsthand the positive impact that humanitarian organizations have had in her native country, Liberia, and she looks forward to making a positive impact in the lives of others around the world.
Najwa loves interior decorating and event planning. She also enjoys spending time with family and friends, growing spiritually, traveling, reading, and serving her community.