PJ Hooper
Deputy Director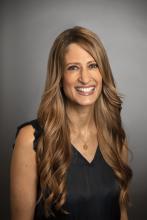 As deputy director, PJ provides strategic leadership and technical direction for ITI, serving as the main liaison to all collaborating partners, including Pfizer Inc., ministries of health, non-governmental organizations and other stakeholders. She is responsible for overall management, technical development, implementation, personnel, budget and financial oversight of the program.
PJ came to ITI from another program at The Task Force for Global Health, the Neglected Tropical Diseases Support Center (NTD-SC), where she served as senior associate director with a focus on partnership development and trachoma research. She previously worked at ITI from 2009-2012, where she managed an operational research grant from the Bill & Melinda Gates Foundation and oversaw external relations for the program. Prior to that, PJ worked with the Mectizan® Donation Program, the Lymphatic Filariasis Support Center, and the Global Alliance to Eliminate LF.
PJ holds a Master of Arts in Political Science specializing in International Relations and Comparative Politics from the University of Georgia and a Bachelor of Science degree in International Affairs and French from the Georgia Institute of Technology. She has a graduate certificate in Core Public Health Concepts from the University of North Carolina - Chapel Hill.