Rosemary Pearson-Clarke
Associate Public Health Advisor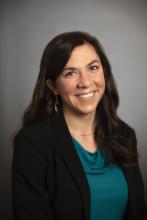 As an Associate Public Health Advisor for the International Trachoma Initiative, Rosemary provides program support and technical assistance to countries implementing the SAFE Strategy to prevent trachoma. She primarily supports countries in the Southern African and Eastern Mediterranean regions as well as Lusophone nations. 
Before joining ITI, Rosemary served as a Peace Corps Volunteer in Botswana, where she worked with local NGOs and government institutions to develop, implement, and evaluate public health programming related to HIV/AIDS, malaria, nutrition, and gender-based violence. Prior to the Peace Corps, she worked with the U.S. Centers for Disease Control and Prevention's (CDC) National Center for Environmental Health where she supported environmental health emergency management and response. Rosemary also has worked in an innovative aquatic toxicology lab examining the impacts of personal care products on human and aquatic health.
Rosemary holds a Bachelor of Science and Master of Public Health in Environmental Health Science from the University of Georgia.