Sanni Juhar, E.M.B.A.
Finance, HR and Admin Manager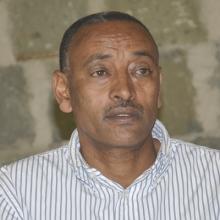 As the Ethiopia ITI office's manager, Sanni is in charge administrative, HR, and financial functions for ITI's operations in country. Sanni manages the office's recruitment and hiring of personnel, compliance with legal and statutory procedures on personnel management, and oversees the smooth running of HR-related administrative tasks. He also is responsible for completing financial reports, and updating and implementing all necessary policies and accounting practices.
Prior to serving ITI-Ethiopia, Sanni was a senior finance officer for Save the Children-Denmark from 2003 to 2010. In this role, he managed project funds and donor agreements and prepared and presented financial reports to funders and other stakeholders. He also was responsible for carrying out overall accounting and financial management and logistics activities.
From 1998 to 2002, Sanni was an accountant and internal auditor for the Development Bank of Ethiopia. In this role, he was responsible for financial and managerial accounting, a yearly financial audit, and participating in revision/developments of the Bank's accounting and audit manuals, and other polices of the bank.
Sanni holds an Executive Masters of Business Administration (EMBA) and a Bachelor of Arts in Accounting from Addis Ababa University.