Selam Beyene
Administrative Assistant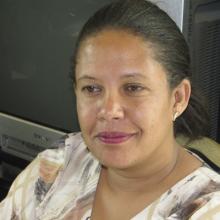 As an administrative assistant for the International Trachoma Initiative's Ethiopia office, Selam is responsible for maintaining efficient systems for program storage and office document cataloging. She also helps facilitate annual work planning events, local travel arrangements, and active calendar appointments. She helps to monitor the staff's benefits and deliverance of standard office health arrangements as well.
Prior to joining ITI, Selam worked for the North Gondar Disaster Prevention Commission and the Ophthalmological Society of Ethiopia at different times as a program officer and executive secretary.  
Her previous work experience includes planning and monitoring relief missions, managing administrative activities, organizing annual meetings, keeping custody of medical equipment, and handling office accounts. 
Selam holds a Bachelor of Arts in Economics from Pune University of India and a Bachelor of Science in Management Information Systems.