Sumon Ray
Communications Specialist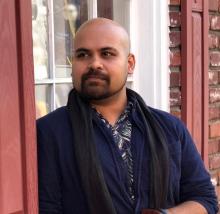 As the communications specialist for the International Trachoma Initiative, Sumon assists in presenting ITI's mission and role through storytelling, videos, photos and succinct social media messaging.
Before ITI, Sumon completed a Master's in Development Practice from Emory University with a certificate in Disaster Risk Reduction and Response. Additionally, Sumon served as an intern for Habitat for Humanity International's Disaster Risk Reduction and Response teams in Atlanta and the Philippines. Sumon's responsibilities included spearheading evaluations on Habitat housing solutions in disaster prone communities throughout the Philippines. While conducting transect walks, focus groups, individual household interviews, and key informant interviews, Sumon knew that humanitarian storytelling was his calling.
Sumon is fluent in Bangla and Hindi. During his spare time, Sumon loves to cook, volunteer, and explore different parts of Atlanta.
Sumon also holds a Bachelor's of Art in Digital and Broadcast Journalism and a minor in Public Health from the University of Georgia.