Tesfaye Teferi
Program Manager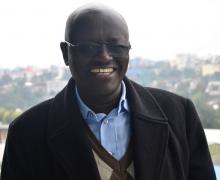 As the program manager for ITI, Tesfaye liaises with the Ethiopia Federal Ministry of Health, the Regional Health Bureaus, and implementing partners on the preparation of annual country Zithromax® application and on the Trachoma Executive Committee review and approval of the applications. Tesfaye also supports mass drug administration execution and supports district-level reporting of prevalence data.
Before joining ITI, Tesfaye served for more than 27 years within the Federal Ministry of Health in various capacities (EPI coordinator, head of the Epidemiology section, head of the Communicable Diseases Control division, and as dean of the Health Professionals Training College). In 2006, he joined The Carter Center as a Trachoma Program officer for the Amhara Region's Trachoma Control Program, where he took part, from the inception in the development of the innovative approach called "MalTra Week." MalTra weeks enabled treating 7.5-10.5 million people for trachoma and malaria in a week. Tesfaye managed the scale up of trachoma control efforts in Amhara from 19 districts in 2006 to 152 districts in 2010. Tesfaye joined ITI in as a program manager in 2014.
He has co-authored seven scientific papers published in peer-reviewed international journals. Tesfaye earned his Bachelor of Science in Environmental Health from Jimma University and his Master of Public Health from the University College Dublin (UCD), Republic of Ireland.