Teshome Gebre
Regional Director for Africa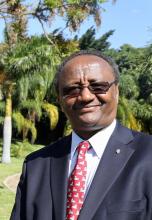 Dr. Teshome Gebre has served in various health programs for several years within the Ethiopia Federal Ministry of Health. In 1995, Teshome joined The Carter Center and served as a country director until 2011. He then joined the International Trachoma Initiative, where he worked first, as a consultant for 18 months and later, was appointed as regional director for Africa based in his home country, Ethiopia. He has authored and co-authored more than 70 publications focusing on neglected tropical diseases and malaria, including contributions to four book chapters.
On top of his regular duties, Teshome has been actively engaged in leadership positions in several professional societies, including the Ethiopian Public Health Association, the American Society of Tropical Medicine & Hygiene, and the International Society of Infectious Diseases. He also is a Progressive Melvin Jones Fellow of the Lions Clubs International Foundation.
Teshome is one of the very few pioneers for NTDs in Ethiopia, having been in the program for more than 20 years. He particularly is recognized for masterminding the innovative strategy of joint malaria and trachoma control, which is commonly known as the "MalTra Week Strategy" in the Amhara Region.
He has been serving as a member of the NTD Regional Program Review Group for the World Health Organization's Regional Office for Africa (AFRO). He also is a distinguished member of the International Board for Amref Health Africa.
Teshome has received several prestigious awards in recognition of his outstanding contributions to public health in Ethiopia and Africa, including a Gold Medal & Certificate from the Ethiopia Public Health Association and the Federal Ministry of Health. 
He earned his master's degree and Ph.D. in health care management from the American Century University, New Mexico.