Teshome Gebre
Regional Director for Africa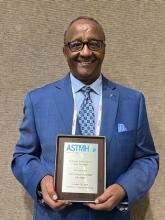 Teshome Gebre began his career in public health after graduating from the then Gondar Public Health College, Addis Ababa University, in Environmental Health. Currently, Teshome holds M.Sc. in Global Health Policy and PhD in Health Care Management. After serving for 18 years at the Ministry of Health-Ethiopia in various capacities, Teshome joined The Carter Center in 1995 and established the Ethiopia Country Office in Addis Ababa and worked for 17 years as its founding Country Representative.  During his tenure with The Carter Center, he has spearheaded the establishment of four national programs; i.e. Guinea worm eradication, Trachoma and Onchocerciasis control and Lymphatic filariasis elimination programs.  He is also the master designer of the integrated innovative strategy of malaria and trachoma commonly known as the "MalTra Project".
Dr. Teshome is a global public health expert with extensive experience in managing various disease control and eradication programs. Since June 2011, he has been working as Regional Director for Africa employed by the International Trachoma Initiative (ITI), a program of The Task Force for Global Health (TFGH). He has organized and led several nation-wide surveys, clinical trials and operational research projects. Teshome has published more than 95 publications in peer reviewed international journals including four book chapters.
Teshome is a registered and licensed Consultant Health Science Specialist by the EFDA-Ethiopia and Fellow of the Ethiopian Academy of Sciences.  He has received several prestigious awards in recognition of his outstanding professional contributions including Gold Medal & Certificate of Distinction from the Federal Ministry of Health-Ethiopia and Gold Medal & Certificate of Merit from the Ethiopian Public Health Association (EPHA). In November 2022, in recognition of his sustained professional excellence in global health, Teshome has been admitted to the 2022 Class of Fellows of the American Society of Tropical Medicine & Hygiene (FASTMH).