Yen Kim
Supply Chain Systems Analyst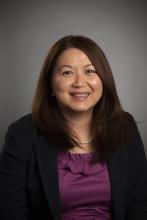 Yen Kim is the supply chain systems analyst for ITI. She supports ITI's mission by providing technical expertise in supply chain systems, inventory management, and product management. She also is responsible for coordinating Zithromax® donation shipments to 19 Anglophone countries, building the supply chain module in the GET2020 database, and analyzing supply chain data to generate reports for effective decision making.
Prior to joining ITI, Yen was a logistics engineer at The Home Depot. She managed and implemented large scale, process improvement capital projects for distribution centers nationwide. After several years in the for-profit sector, she ventured into the non-profit world and served as a housing counselor for local Atlanta residents. There, she built a passion to make an impact in the lives of others. She joined ITI to utilize her engineering skills to make a difference on a global level. Yen has also worked for U.S. Census Bureau, Ryder Systems, and Shaw Industries.
Yen holds a Bachelor of Science in Industrial and Systems Engineering and a Certificate in Operations Management from Georgia Institute of Technology.