Esmael Habtamu, Msc, PhD
Public Eye Health Academic and Clinical Trialist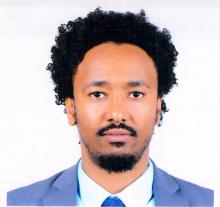 Dr. Esmael Habtamu is a Public Eye Health Academic and Clinical Trialist with a research interest in trachoma. He is a Postdoctoral Research Fellow at the London School of Hygiene and Tropical Medicine (LSHTM), and the Co-Founder and Chief Executive Director of Eyu-Ethiopia, a Non-governmental Eyecare Research, Training and Service Centre. He is an African Academy of Science Affiliate, and Mandela-Washington Young African Leaders Initiative Fellow. He has published 26 research articles, which have informed WHO and national guidelines and practices globally.
In 2007, Esmael graduated from his undergraduate Ophthalmic Officer Course with Great Distinction, having the highest grade point average among the health science departments in that year at the University of Gondar. Then he joined the LSHTM / Carter Center / Amhara Regional Health Bureau Joint Trachoma Research Programme as the Field Coordinator during which he executed two large randomized controlled trials on trachoma. Then in 2010/2011, he has studied on the LSHTM MSc in Public Health for Eye Care, graduating top of his year group, and was awarded the Gordon Johnson Prize for outstanding performance. He then re-joined the Carter Center - LSHTM Trachoma Research Programme as a Research Manager and local Principal Investigator. He Collaborated with Kilimanjaro Centre for Community Ophthalmology (KCCO) in a multi-country project documenting preferred practices for Azithromycin Mass Drug Administration for Trachoma control, conducting case studies in Ethiopia, Kenya, and Nigeria. Between 2013 and 2016 he completed his PhD on the surgical management of trachomatous trichiasis and its impacts on quality of life in two large randomized controlled trials, and nested case-control and cohort studies which led to a WHO policy shift and are being used widely in high-level advocacy by WHO and the trachoma control community. He was awarded the 2017 LSHTM Woodruff Medal for the outstanding doctoral thesis completed that year.
Dr. Habtamu has participated in the development of various international and national trachoma control manuals and guidelines, including WHO Global Scientific Meetings on Trachoma Control.  In 2019, he was awarded the LSHTM Director's Award for "Early Career Researcher making significant contributions in their field of research and demonstrating the potential to progress as a future academic leader". He aspires to make a career progression as an Implementation Scientist and generate much needed practical and scientifically robust evidence on how to deliver comprehensive, integrated and sustainable eye care services in low-income settings.