Stephanie Palmer, M.P.H.
TRACHOMA TECHNICAL ADVISOR, ACT TO END NTDS | WEST, FHI 360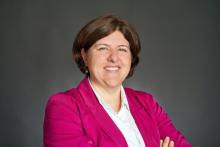 Stephanie Palmer has worked for over a decade working in the field of neglected tropical diseases (NTDs) with a specific emphasis on trachoma. She began her public health career in NTDs as a Peace Corps volunteer in Togo fighting Guinea worm and as a Guinea worm Technical Advisor for The Carter Center in Niger.  She currently serves as the Trachoma Technical Advisor for USAID's Act to End NTDs | West program, which supports 11 ministries of health in West Africa to control and elimination seven NTDs.
Prior to joining FHI 360, she was a Senior Manager of NTDs at RTI, managing USAID's MMDP Project in Ethiopia and supporting business development; she served as an NTD Program Manager at Helen Keller International; and was the Program Development Coordinator and Assistant Director the Trachoma Control Program at The Carter Center.
Additionally, she worked as a Disease Intervention Specialist with the Wyoming Department of Health. She holds an MPH from the Hubert Department of Global Health at Emory University and a BA in French and Religion from Cornell College. She speaks English and French, and in her spare time, volunteers on a board for an NGO in Togo that provides scholarships to young women.