Genevieve LaCon
Public Health Advisor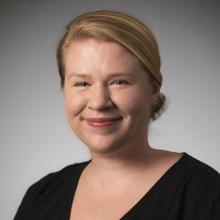 As a Public Health Advisor for the International Trachoma Initiative, Genevieve provides program support and technical assistance to Francophone and Latin American countries implementing the SAFE Strategy to prevent trachoma. She also assists with the preparation of annual forecasts and drug applications, as well as the development of national Trachoma Action Plans that aim to eliminate trachoma as a source of blindness.
Before joining ITI, Genevieve worked as a surveillance epidemiologist at the U.S. Centers for Disease Control and Prevention, where she supported a variety of projects including research on WASH in health care facilities in Mali and Cameroon. Prior to CDC she served as a Peace Corps volunteer in the West region of Cameroon from 2013-2015, where her main projects included malaria prevention, waterborne disease education, and engaging men in maternal health and family planning. Her previous work experience also includes studying bed net efficacy within the Entomology branch at CDC, tracking the expansion of Aedes aegypti mosquitoes in the Peruvian Amazon, and researching West Nile Virus transmission in Atlanta.
Genevieve holds a Master of Public Health in Global Environmental Health from Emory University's Rollins School of Public Health and a Bachelor of Arts degree in Sociology from the University of New Hampshire.