Paul Emerson
ITI Director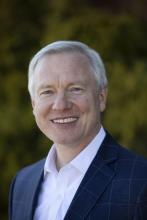 Dr. Paul Emerson is ITI's Director, responsible for the overall success of ITI's trachoma elimination efforts with program partners Pfizer and the Task Force for Global Health to achieve the global elimination of trachoma. Paul has 20 years of experience working in Africa to eliminate trachoma, malaria, and other neglected tropical diseases (NTDs). He makes strong use of data to plan and focus program delivery, and emphasizes operational research with academic partners to overcome barriers to scale-up and service delivery. He has supported partner ministries of health and nongovernmental organizations (NGOs) in strategy, program development, training, implementation, monitoring, and impact assessment.
Prior to joining ITI, Paul worked at The Carter Center where he was director of the Trachoma Control Program and co-director for The Carter Center's Malaria Control Program. Paul integrated trachoma program delivery with malaria control in Ethiopia, with Guinea worm eradication in South Sudan, and with lymphatic filariasis in Nigeria. The Carter Center is a close partner of ITI and while Paul was there, The Carter Center became the first NGO to support the distribution of more than 100 million doses of Zithromax®.
Paul was instrumental in the formation of the International Coalition for Trachoma Control (ICTC) serving on the executive group as vice chair, chair, or immediate past chair for a total of eight years and setting it up as the successful collaborative membership organization it is today. He currently is a member of the WHO AFRO Regional Program Review Group (for NTDS) and chairs the steering committee of the WHO AFRO Expanded Special Project for the Elimination of NTDs in Africa.
Paul worked in a number of other positions including research fellow and lecturer of Biological and Biomedical Sciences, at the University of Durham where he was the grant holder and principal investigator leading a small team on multi-country evaluations of trachoma control programs assisted by HKI and World Vision. He has worked for the Medical Research Council Laboratories in The Gambia, the Ministry of Education in Botswana, and the Ministry of Education in Kenya.
Paul is an adjunct assistant professor at the Rollins School of Public Health at Emory University. He is an author on more than 130 peer-reviewed papers, and has authored several letters, editorials and manuals on the SAFE Strategy to combat trachoma as well as on the innovation, integration, and surveys and surveillance in the fields of trachoma and malaria control.
Paul holds a doctorate in Biological and Biomedical Sciences from the University of Durham, a Masters in Science. in Applied Parasitology and Medical Entomology from the Liverpool School of Tropical Medicine, a Post Graduate Certificate of Education from Bath Spa University, and a Bachelor of Science. in Zoology from the University of Nottingham.
In 2012, Paul received the Trachoma Gold Medal: For 'Les service exceptionnels rendus dans la lutte contre le Trachome' [Exceptional services bestowed in the battle against trachoma] awarded by the International Organization Against Trachoma and the French League Against Trachoma.
Media Appearances